CLGF Conference 2011: News from Tuesday 15 March
Welcome to the first issue of the CLGF Conference news, where we hope to give you a flavour of what's been happening throughout the week.
The present global economic situation places a huge burden of responsibility on local economies and local government. CLGF commissioned Prof Purshottama Reddy of the University of KwaZulu Natal and Malcolm Wallis of Durban University of Technology to highlight some of the issues that our councils and local businesses are facing.
The paper Energising local economies: local economic development around the Commonwealth raises key questions for the conference to discuss over the coming week discuss. In particular:
How to enhance local government's role in economic development?
How to achieve greater recognition for local government's role in economic development?
How to integrate local economic development into national and local development planning?
How to address capacity gaps?
What are the strategies for forging effective partnerships, especially with the private sector? and
How to finance effective local economic development.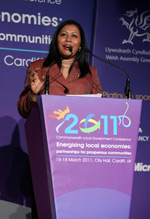 Opening the conference, CLGF Chairperson and Mayor of Belize City Council, Zenaida Moya-Flowers emphasised CLGF's achievements since delegates last met in 2009. In particular, the recognition by Heads of Government of the Aberdeen Principles as part of their core commitment to political values.
Thanks too to the green light from funders, several projects and programmes were now expected to go ahead, Mayor Moya-Flowers told the conference. And, as well as CLGF's improved electronic communication, members would receive the next edition of the Commonwealth Local Government Handbook later this week.
Delegates were also welcomed by Cllr Rodney Berman, Leader of Cardiff Council, Baroness Eaton, Chairman of the Local Government Association of England and Wales and Cllr John Davies, Leader of the Welsh Local Government Association. Commonwealth Secretary-General Kamalesh Sharma and South Africa's Northern Cape Premier Hon Hazel Jenkins also addressed delegates.
A philosophy for local government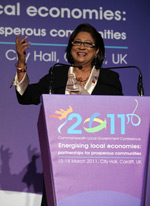 Prime Minister of Trinidad and Tobago Hon Kamla Persad-Bissessar gave a personal rationale for the importance of local government in her keynote address. Conflict, she told delegates, resulted from people becoming frustrated by their alienation from democracy and inability to participate in the decisions and structures that affect them.
"I believe that peace and stability, whether at a community or national level, will best be promoted and served when people have the opportunity to participate in the affairs that relate to the way they are governed," the Chairperson in Office of the Commonwealth said. "We must also develop a consensus based approach to the use of resources and in the determination of developmental strategies – local government fulfils this demand".
Prime Minister Persad-Bissessar criticised autocratic styles of governance as inconsistent with the values of people living in a freedom-driven democratic values-based world. "It is my considered view that local government is not only one of the best examples of democracy in action but also has the potential to unite communities around a shared vision and mission," she added. Finally, she told a packed City Hall that building prosperous communities depended on the sacrifice and commitment of the people. "People are more likely to provide that commitment and make the sacrifices if they have a say and are treated with respect and dignity."
"Although we are from all corners of the Commonwealth, as politicians and senior public sector leaders we share the same challenges. Increasing the prosperity of our communities is perhaps the most important one," First Minister of Wales Carwyn Jones told the conference. "Through better understanding of approaches, the sharing of knowledge and best practice between us, this conference can make a real difference to people's lives."
With around 500 delegates from some 54 Commonwealth countries, including Ministers, Chief Executives and senior local government staff, the event aims to promote global issues and international cooperation. The First Minister said it was an "honour and a privilege" for Wales to host the sixth CLGF conference.
Baroness Eaton, Chairman of the Local Government Association of England and Wales told delegates that local government should lead the way and demonstrate that the best solutions were local solutions. In England and Wales, councils were already learning from their Commonwealth counterparts, whether from Canada's experience of economic crisis in the 1990s or from South Africa's innovative peer review system.
"We are a Commonwealth in miniature," Commonwealth Secretary-General Kamalesh Sharma went on to tell the 54 nations' representatives. The Commonwealth valued local government because it was most people's first and only contact with government. He also praised the setting up of the Commonwealth Local Government Young Professionals Forum, adding that advancing enterprise and engagement in young people was the way out of the world's economic problems.


Follow us on Twitter
Keep up with what's happening at the conference: follow us on Twitter at: #clgc2011

Message from UK Prime Minister
UK Prime Minister David Cameron sent a warm message of welcome to delegates at the 2011 conference. In it, he emphasised the British Government's commitment to strengthening the Commonwealth as a focus for democracy, development and trade. Mr Cameron also recognised the CLGF's "good work" in sharing good practice across the Commonwealth and encouraged all member states to take forward the 'Aberdeen Principles on Local Democracy and Good Governance'.
Young professionals make history
Good governance cannot work without listening to the voice of young people, CLGF Chairperson Mayor Zenaida Moya-Flowers told the inaugural meeting of the Commonwealth Local Government Young Professionals Forum. Welcoming this historic initiative, Mayor Moya-Flowers said the CLGF Board looked forward to working with the Forum to help develop insightful and innovative recommendations to improve our local communities.
Cardiff University hosted this year's research colloquium which took place immediately before the conference from 13-15 March. This year's meeting, with the theme Local Governance for prosperous communities was one of the biggest yet; delegates made some practical recommendations to the conference and reviewed how they could strengthen their role in CLGF and as a research group.
Earlier today, CLGF's Board met at City Hall where they endorsed the strategic review, emphasising greater delivery in the regions. The review is bringing an enhanced service and better communications to all CLGF's members.
The Board also gave its support to the Inclusive Cities Network and agreed it should be expanded to include other Commonwealth cities.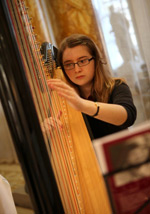 Young harpist performs during opening ceremony