City Planning Department
Photos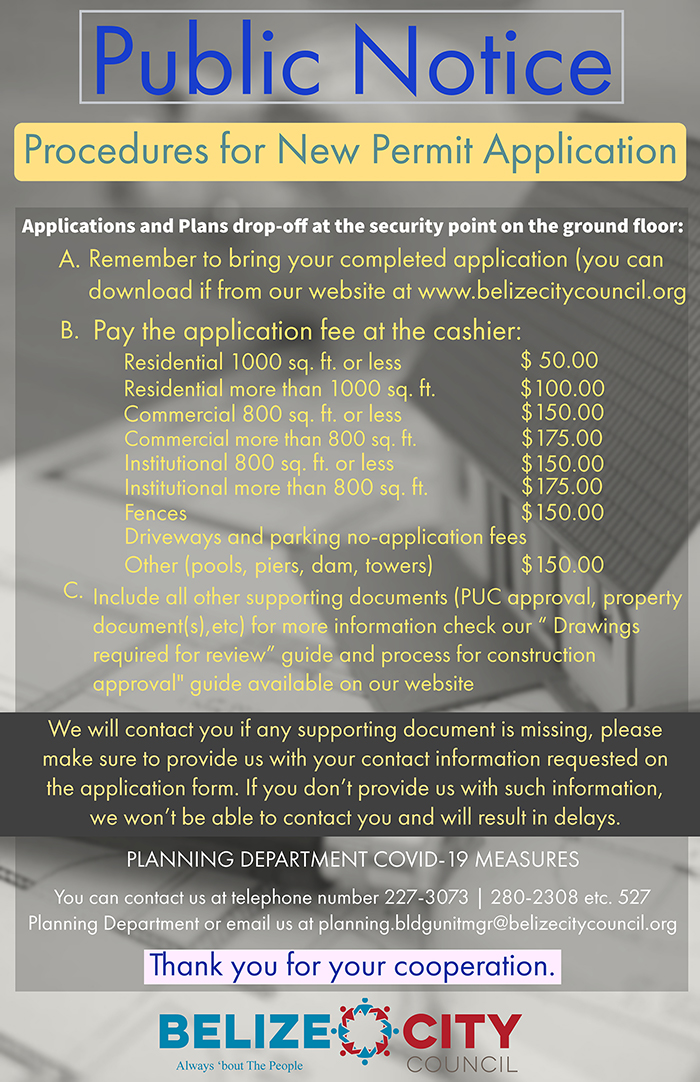 About
The Belize City Council's Town Planning Department is managed by the City Planner Ms. Carla Patnett and is overseen by the City Engineer Mr. Floyd Williams.
The development application is used by the Belize City Council as an administrative tool, to control and regulate development within Belize City. It is through these applications that residents of the City make known their intentions to develop a portion of land, and state the desired purpose, whether for commercial, residential, industrial or other uses.
Town planning dealt primarily with the regulation of land use and the physical arrangement of city structures, as guided by architectural, engineering, and land-development criteria. It then broadened to include the comprehensive guidance of the physical, economic, and social environment of a community. Elements characteristic of town planning include:
General plans that summarize the objectives of (and restraints on) land development;
Zoning and subdivision controls that specify permissible land uses, densities, and requirements for streets, utility services, and other improvements;
Plans for traffic flow and public transportation;
Strategies for economic revitalization of depressed urban and rural areas;
Strategies for supportive action to help disadvantaged social groups; and
Guidelines for environmental protection and preservation of scarce resources
Building Permit
Applications for building permits or continue works will be received from Monday to Friday from 9:00AM to 2:30PM only. Approved plans are only valid for a period of 12 months, if the person fails to commence work within this period, he/she must reapply for a building permit.
Key Things to know:
Amount of parking space offered for Residential use and Commercial use:-
Residential R1/R2/R3/R4 1.0 space per dwelling unit
Commercial Hotels, guest house 1.0 space per guest unit, 1.0 space for each three guest rooms
Retail and office 1.0 space for each 500 sq ft useable floor area
Restaurant 1.0 space for each 100 sq ft of the public dining area
Dancehalls, discos, clubs, bars, and game rooms 1.0 space for each 200 sq ft of floor area
Industrial use Warehousing and light industry 1.0 space for each building up to 1500 sq ft plus for every other 1500 sq ft thereafter
Community Facilities Libraries, museums, exhibition buildings- 1.0 space for each 1000 sq ft of floor area
Assembly Halls auditorium, churches, courthouses, lecture halls, cinemas 1.0 space for each 20 seats
Hospitals 1.0 space for 6000 sq ft of floor
Clinics 2.0 spaces for each practitioner's office
Vehicles Loading or Off Loading Requirements:
Type of Buildings and the number of loading and offloading bays required:
Retail Outlets, showrooms 1.0 for each unit up to 1000 sq ft
Markets, hospitals 1.0 for each unit up to 1000 sq ft plus for each 15000 sq ft of floor area thereafter
Warehousing and light industry 1.0 for each building up to 5000 sq ft plus one for each 10000 sq ft of floor area in excess of 5000 sq ft to a total of 3.1.0 for each 50000 sq ft thereafter
Consideration will be given to dual use where time of operation alternative.
Criteria for plans:
Title block - name of owner, date, draftsman/architect
3 Site Plan - parking must be shown
Location Plan - cross section
Floor Plan for Elevations - electrical layout
Beam Details - septic tank & soak away
Stairs Details - Plumbing Layout
Procedure for Applying for a Building Permit
Once the person has finished designing his structure and has completed all the architectural plans (site plan, floor plans, elevation plans, cross section), structural plans (ground beams, foundation pile, beams and column cross-section, staircase, slab rebar design, etc), plumbing and electrical plans, along with the design of septic and soak away, and wishes to carry out construction within the city shall do the following:
Go to the offices of the Belize City Council located in Market Square.
Pay their relevant application fees (to be determined based on the number of square ft. of construction)
Fill out the development application in triplicate (3 copies)
Deposit complete set of plans in triplicate (3 copies minimum) One copy in size 11" x 17" is required for for our records.
The plans are then reviewed by the Belize City Council's Building Unit for approval, once the building plans do not conform to the Building Codes or other safety measures are required modification to the drawings will be requested. We make every effort to provide a prompt processing time, but consider that the law prescribed time frame to reply is 14 working days on plans less than 5000 sq. ft. or 30 working days for plans more than 5000 sq.ft. You can contact the BCBU after the law prescribed time and request an update on your application status if you have not received a response.
Once the pertinent modification is done to the plans, the owner is again to resubmit these plans to the Belize City Council's Building Unit for approval. (There is no extra charge).
Once the plans are approved it is sent back to City Hall where the owner is charged a permit fee.
Then the plans are returned to the owner, and they could start to build.
Before commencement of the structure, the Belize City Council must be notified of the date of the construction commencement and the property owner must request that a representative from the Belize City Council's Building Unit be present to approve the site layout.
If a person wants to make modifications to the structure he must first request permission from Belize City Council before he goes ahead. A fine may be imposed on the owner if he fails to report such alterations.
Local Building Authority Development Fees
The permit fees cover four visits to the site to inspect four different phases.
Revisits, per phase, to address modification of original approved plans: $150.00/visit/phase with transportation.
For additional information, you can visit our office on the 2nd Floor of the City Hall at #810 Regent Street or call 227-2308.
Councillor: Stephanne Hamilton
City Engineer: Floyd Williams
City Planner & Technical Manager: Carla Patnett
GIS Specialist: Stacey Cayetano

RMMS Coordinator: Augustine Choc

Email Address: planning.bldgunitmgr@belizecitycouncil.org
---
Downloadable Documents